Member benefits
Mandate members are stronger when we work together.
Mandate has negotiated discounts for members in home, motor and travel insurance through our partners in Marsh Ireland. We have also developed travel plans, dental plans, personal accident protection and vehicle breakdown recovery. Below you'll find some of the offers Mandate members can benefit from.
Legal Services
We provide legal assistance and if you'd like to know more about our services or you need legal advice you should contact your local Mandate official by clicking here.
Home & Motor insurance
As a Mandate member you can avail of discounts in home, motor and travel insurance through our partners in Marsh Ireland. Click here for more information. Avail of great home insurance deals today!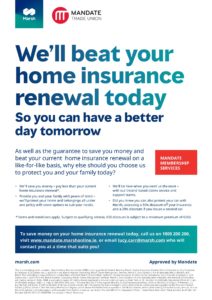 Education courses
Mandate members (and their families) can avail of discounted and free education and training courses. More information can be found in our Training section on this website. Take a look at our Online Training, MC2 and UnionLink courses today.
UnionLink
The CWU, FSU and Mandate have come together to develop online learning courses that will assist our members and representatives in developing their skills. Through Unionlink all members in our sectors have an innovative way of accessing a variety of courses. Education on is an important part of the Union agenda. It not only enhances personal abilities it also builds self-confidence. Unionlink assists members and representatives to create their own pathway to learning while at the same time contributing to Union aims.
If you want to explore the online learning world, then Unionlink is for you! Click here for more.