Mandate Takes Part in Protest Over Ending of Eviction Ban
The Raise the Roof campaign held an Eviction Ban Protest at Dáil last Thursday, March 30 – the last day of the Dáil term – to highlight the end of the Eviction Ban and the potentially disastrous impact on thousands of individuals and families in the rental sector.
Mandate Trade Union is an active member of the campaign and was well-represented at last week's protest.
The Raise the Roof campaign group wrote to all TDs recently pointing out that the decision to end the ban "without first putting in place the measures needed to prevent people being forced into homelessness, is both profoundly wrong and wholly indefensible.
"This deeply troubling decision has now placed thousands of households in immediate danger of being forced into homelessness…single people, young couples, families with children, extended families, and older people."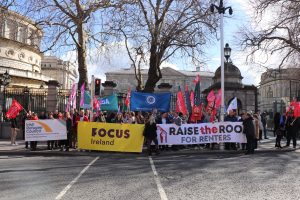 Raise the Roof called for the ban to be extended and to "guarantee that it will be kept in place until Government has introduced the suite of measures and safeguards required to ensure that no family or individual will be forced into homelessness when a tenancy ends."
Raise the Roof Dáil Campaign Group to Hold National Rally for Housing on 26th November and a Series of Public Meetings across Dublin
The Raise the Roof campaign group is to stage a national Rally for Housing in Dublin on Saturday, 26th November, as part of a wider initiative that will also see a series of major public meetings on housing in the capital, over the coming weeks.
Read More…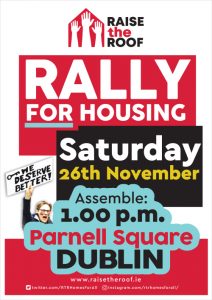 Mandate is a supporter of the Raise the Roof campaign. Watch the video for more information on this important campaign.