MANDATE CHALLENGES TESCO IRELAND'S UNILATERAL DECISION TO IMPOSE SIGNIFICANT ROSTERING CHANGES ON INSTORE 'DOT COM PICKERS'
Friday 21 April 2023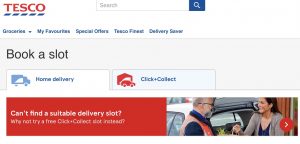 Union says roster changes will cost 'Dot Com Pickers' thousands of euros in lost income despite proposed once-off compensation payment and consolidated pay scale
The Mandate Trade Union has today challenged Tesco Ireland's decision to unilaterally impose significant changes to the rosters of instore 'Dot Com Pickers' – the staff who fulfil the orders made by online shoppers. The union's Assistant General Secretary, Jonathan Hogan, says that the move will cost many of these staff thousands of euros in lost income despite the company's offer of a once-off compensation payment and a new consolidate pay scale.
"Out of the blue yesterday, Tesco Ireland unilaterally announced significant changes to the rostering arrangements for the instore 'Dot Com Pickers'. This move has come despite the fact that these workers have facilitated the exponential growth in DOT COM deliveries and online shopping within Tesco Ireland. It's worth noting that the company proposed a similar move a number of years ago but it was overwhelmingly rejected by the staff involved.
"Mandate understands that Tesco Ireland is offering a once-off compensation payment and a new consolidated pay scale to the 'Dot Com Pickers' in return for the new rostering arrangements. Despite these, the new rostering arrangements will result in massive ongoing annual net losses for current workers – one worker in Dublin reported that her potential loss of earnings over the year could amount to thousands of euros. In addition to the financial consequences, there are also work-life balance issues and other indirect costs, associated with the large scale rostering changes being imposed," Jonathan Hogan said.
Mr Hogan said that the manner in which this news has been delivered to workers is shocking, setting a new low in industrial relations within the company.
"Over recent years, Tesco Ireland has stepped away from its previous constructive approach to industrial relations and this latest move is, unfortunately, in line with that new approach. No attempt has been made by the company to engage with Mandate Trade Union directly or to ensure that our impacted members are appropriately protected in relation to their overall earning levels.
"Tesco Ireland needs to do much more for these staff than once-off compensation payments and consolidated pay rates which are clearly not enough to protect their current income levels. Instead, they need to engage with their staff's union representatives and sort the issues out through constructive dialogue," Jonathan Hogan concluded.