Mandate Trade Union apologise for inconvenience to public but say company has left workers with no alternative
Mandate Trade Union has named the stores likely to be affected by tomorrow's (Thursday, 14th June 2018) industrial action in Lloyds Pharmacy.
At 10am up to 200 workers in 30 Lloyds Pharmacy stores across the country will participate in official industrial action which will last for one hour. The Union says only 30 stores have been selected at this point in order to cause as little inconvenience to the public as possible, but that this could escalate if the company does not respond positively to the workers' demands.
The Union is naming the stores in the public interest and asking that customers of Lloyds Pharmacy support the workers during this period of time.
Gerry Light, Mandate Assistant General Secretary said:
"We are asking customers of Lloyds Pharmacy to please support the workers and obtain their medicines from an alternative supplier while this dispute is taking place."
He added, "Our members do not want to be on strike, and are only taking this action as a last resort. We sincerely apologise for any inconvenience caused to the public but we ask for their understanding as our members are forced to take action."
Mr Light explained, "The company refuses to engage with their trade union despite a Labour Court recommendation that stated: '"the Court recommends that the parties engage in order to seek agreement in relation to the matters raised by the Trade Union…' Yet Lloyds Pharmacy management continue to ignore the Court, their members and their designated representatives."
Mandate has been campaigning for improvement in working condition in Lloyds Pharmacy, including:
A pay increase and incremental pay scales;
The introduction of a sick pay scheme;
Security of hours and the elimination of zero hour contracts; and
Improvements in annual leave entitlements and public holiday premiums.
Download PDF of striking stores here: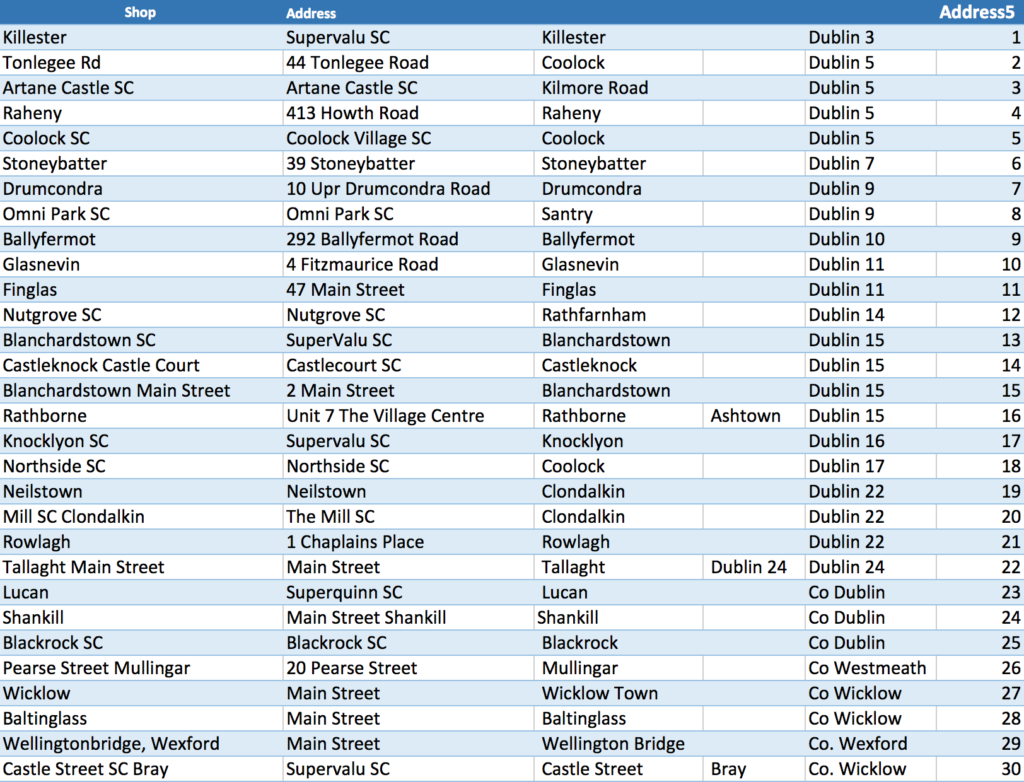 | | | | | |
| --- | --- | --- | --- | --- |
| Blanchardstown SC | SuperValu SC | Blanchardstown | | Dublin 15 |
| Castleknock Castle Court | Castlecourt SC | Castleknock | | Dublin 15 |
| Rathborne | Unit 7 The Village Centre | Rathborne | Ashtown | Dublin 15 |
| Blanchardstown Main Street | 2 Main Street | Blanchardstown | | Dublin 15 |
| Northside SC | Northside SC | Coolock | | Dublin 17 |
| Tonlegee Rd | 44 Tonlegee Road | Coolock | | Dublin 5 |
| Artane Castle SC | Artane Castle SC | Kilmore Road | | Dublin 5 |
| Glasnevin | 4 Fitzmaurice Road | Glasnevin | | Dublin 11 |
| Killester | Supervalu SC | Killester | | Dublin 3 |
| Stoneybatter | 39 Stoneybatter | Stoneybatter | | Dublin 7 |
| Drumcondra | 10 Upr Drumcondra Road | Drumcondra | | Dublin 9 |
| Raheny | 413 Howth Road | Raheny | | Dublin 5 |
| Omni Park SC | Omni Park SC | Santry | | Dublin 9 |
| Finglas | 47 Main Street | Finglas | | Dublin 11 |
| Coolock SC | Coolock Village SC | Coolock | | Dublin 5 |
| Neilstown | Neilstown | Clondalkin | | Dublin 22 |
| Mill SC Clondalkin | The Mill SC | Clondalkin | | Dublin 22 |
| Rowlagh | 1 Chaplains Place | Rowlagh | | Dublin 22 |
| Lucan | Superquinn SC | Lucan | | Co Dublin |
| Ballyfermot | 292 Ballyfermot Road | Ballyfermot | | Dublin 10 |
| Knocklyon SC | Supervalu SC | Knocklyon | | Dublin 16 |
| Castle Street SC Bray | Supervalu SC | Castle Street | Bray | Co. Wicklow |
| Nutgrove SC | Nutgrove SC | Rathfarnham | | Dublin 14 |
| Shankill | Main Street Shankill | Shankill | | Co Dublin |
| Blackrock SC | Blackrock SC | Blackrock | | Co Dublin |
| Tallaght Main Street | Main Street | Tallaght | | Dublin 24 |
| Wicklow | Main Street | Wicklow Town | | Co Wicklow |
| Baltinglass | Main Street | Baltinglass | | Co Wicklow |
| Pearse Street Mullingar | 20 Pearse Street | Mullingar | | Co Westmeath |
| Wellingtonbridge, Wexford | Main Street | Wellington Bridge | | Co. Wexford |
NOTE TO EDITOR