ONLINE PETITION LAUNCHED TO SUPPORT TESCO DOT.COM PICKERS AND DRIVERS
Wednesday 3 May 2023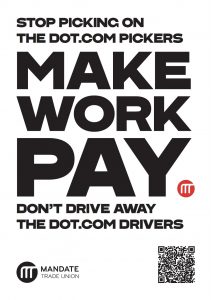 Mandate Trade Union has launched two online petitions (one for Tesco workers and one for everybody else) to demand that Tesco Ireland reverses its decision to impose new work schedules on hundreds of Dot.Com workers (pickers and drivers) who carry out the online shopping for customers.
The changes being imposed on these – already low paid – workers will result in them losing thousands of Euros in pay at the height of a cost of living crisis and at a time when Tesco Ireland itself has reported that its Dot.Com business is booming and profits are up.
In addition, the new work schedules – which will come into effect on 15 May for drivers and 29 May for pickers – will create major problems for those with family/caring roles, potentially forcing many to either give up their jobs or be at a further loss of income.
The Tesco workers' petition can be found at this link:https://my.uplift.ie/petitions/stop-tesco-ireland-picking-on-dot-com-pickers-and-drivers
While the petition for everyone else can be found here: https://bit.ly/4209e2Y
In addition to the petition, the union has produced leaflets explaining the case to customers and badges for customers, members of the public and workers to wear.
Please show your solidarity by:
Signing the Tesco Workers' petition (if you are one) or the customer petition;
Wear one of the badges – available from your local Mandate office or from our Tesco activists;
Get your colleagues, family and friends to sign the relevant petition;
Help give out leaflets and badges to the public.
Thank you!