CONGRESS LAUNCHES ACTION PLAN AGAINST RACISM AND FAR-RIGHT
Friday 5 May 2023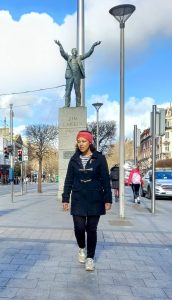 "The far-right does not represent working people – trade unions do", the message contained in a powerful anti-racist short video which has been released by the ICTU.
Congress General Secretary Owen Reidy said 'the video is part of an overall plan by unions to counter the far right and to promote the fact that the trade union movement was built on the simple idea of uniting working people standing stronger together at home and abroad, committed to fighting poverty, discrimination, racism, and fascism.
He added that trade unions believe in solidarity, decent work, and social justice for all working people no matter what their background, and that we will always be there to stand up against those seeking to divide us. Most recently this has included stirring up hate, fear, and anger by blaming migrants and minorities for our housing crisis and our stretched public services '.
Owen Reidy said, 'there are serious issues to be tackled by all of us, including the Government, and will not be solved by laying the blame on migrants and refugees – many of whom are fleeing war, famine, and oppression '.
ICTU has developed a strategy in conjunction with our affiliates to educate and inform union members. The action plan is designed to equip unions to oppose the hate-filled messages of racism, misogyny, and bigotry of the far right at every opportunity. It includes a range of measures including training for workers to combat the far-right, to invest in workplace integration, and to seek to develop workplace leaders of minority ethnic backgrounds and bring them to the fore of trade union activities. 
The strong message of the video notes that Trade unions are stronger together and can only win by learning from each other and mobilising in solidarity for a different economic and political vision.
The 2-minute vt is presented by former Fair City actor Donna Anita Nikolaisen.
You can play it here directly on YouTube if you have a WiFi connection – https://youtu.be/stu7luJey5A