CONGRESS ASKS UNION MEMBERS TO TAKE PLEDGE OVER APARTHEID AGAINST PALESTINIANS
Friday 12 May 2023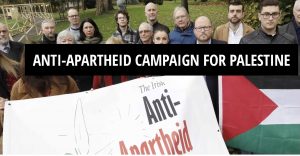 Congress is a founding member of the The Irish Anti-Apartheid Campaign for Palestine (IAACP) and we are asking for your support today by inviting you to take a pledge to recognise that the crime of apartheid is being committed against Palestinians
For decades Israel has subjected the Palestinian people as a whole to an institutionalised regime of domination and discrimination amounting to the crime of apartheid as defined in international law. Apartheid is a crime against humanity under the Rome Statute of the International Criminal Court and the United Nations Convention Against Apartheid. The nature of this discrimination and oppression has been outlined in detail for years by Palestinian human rights organisations and has been more recently identified and described by Israeli and international human rights organisations, as well as by UN bodies and experts.
The IAACP is made up of 20 civil society organisations, trade unions and academic experts that have decided to come together, with the support and endorsement of Palestinian civil society, to highlight ongoing human rights violations against Palestinians, in particular the crime of apartheid.
Through shared actions, campaigns and advocacy initiatives the IAACP has pledged to engage members of the Irish public and political representatives on the situation of Palestinians, and to build political support for effective measures by Ireland and the international community to condemn Israel's actions and to end the crime of apartheid against Palestinians. For more information on the IAACP please click here
However, to do so effectively we need your support!
We are asking you to lend your support to this important campaign by taking an individual pledge to recognise that the crime of apartheid is being committed against Palestinians and to call on the Irish Government to take meaningful steps to end it.
Ireland has a proud history of challenging apartheid in South Africa and Namibia. The IAACP will draw on the rich vein of individual activism, public advocacy, and political action in Ireland in the 1980s that was so successful in drawing international attention to the situation there that ultimately helped bring about an end to the South African apartheid regime.
By raising your voice and lending your name to the pledge you will be helping to challenge the crime of apartheid being perpetuated against Palestinians by calling on the Irish Government to take action!