MANDATE ENDORSES CONGRESS'S CALL ON WORKERS AND TRADE UNIONISTS TO TAKE PART IN SATURDAY'S 'IRELAND FOR ALL' RALLY IN Dublin
Thursday 16 February 2023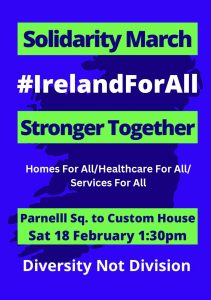 Mandate Trade Union endorses Congress's call on workers and union members to support Saturday's 'Ireland for All' rally which commences at 1.30pm on Dublin's Parnell Square.
Speaking after the monthly meeting of the leadership of the trade union movement in Ireland, Owen Reidy ICTU General Secretary stated, "Our movement fully endorsed the Ireland for All rally on Saturday the 18th February in Dublin. We urge union affiliates to participate and join the rally this weekend. The trade union movement speaks for workers in Ireland, not this small group of extremists who are seeking to stoke fears, division and rancour amongst communities. Ireland is not full. Migration is a positive thing economically, culturally and socially".
The General Secretary Owen Reidy said, "Parts of our public services would completely collapse if it weren't for the valuable contribution our migrant workforce. The current government's failure to adequately address the housing and health crisis can never be an excuse or justification for racism, xenophobia and anti-migrant sentiment. We are a nation of migrants".
Congress President Kevin Callinan said "there isn't a family in Ireland today that doesn't have loved ones living in another country. Solidarity is a key value of the trade union movement. We must support those fleeing war, persecution and natural disasters. We urge all those citizens who want to support these values to come to the rally on Saturday. We must speak out and challenge those who are peddling hate speech in our communities and workplaces".