Dunnes Workers Survey Launched
Monday 30 January 2023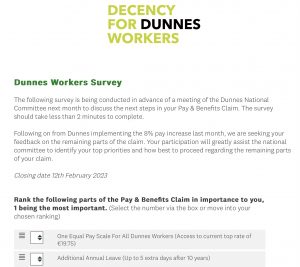 Dunnes Workers Pay & Benefits Claim Update
Dear member,
As we continue to push for improvements in the pay and benefits of all Dunnes Stores workers, we are reaching out to you, our valued members, for your input and feedback. The recent 8% pay increase and enhanced privilege card benefits implemented by the company was a step in the right direction, but there is still more work to be done.
Therefore, we are launching a survey to gather your feedback on the remaining aspects of our Pay & Benefits Claim. Your participation in this survey will greatly assist the Dunnes National Committee in identifying your top priorities and determining the best course of action for the remaining aspects of the claim. We want to ensure that the campaign for improvements in your working conditions truly represents the needs and concerns of all Dunnes Stores workers.
The survey can be accessed by clicking on this link https://tinyurl.com/DunnesSurveyJan23 and should take less than 2 minutes to complete. It will be open for two weeks and will help us identify your priorities for the year ahead.
We understand that the past year has been challenging for everyone, and we want to make sure the voices of all Dunnes Stores workers are heard. For that reason, we encourage all shop stewards and activists to circulate the survey in WhatsApp groups, social media groups, and any other platforms where it can reach Dunnes workers. By working together, we can make a difference and improve the lives of all Dunnes Stores employees.
This survey is being conducted in advance of a meeting of the Dunnes National Committee next month to discuss the next steps in the Pay & Benefits Claim. We want to ensure that your feedback is taken into consideration as we move forward with this campaign. Let your voice be heard and complete the survey today.