Claiming Flat Rate Expenses from Revenue
Thursday 12 January 2023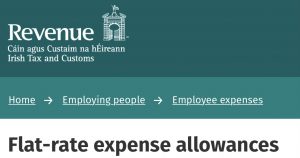 Reminder that retail workers are entitled to claim flat rate expenses of €121 per annum from Revenue to cover the cost of equipment they need for work.
For more details see this link https://www.revenue.ie/en/employing-people/employee-expenses/flat-rate-expense-allowances/index.aspx 
This equipment may include tools, uniforms and stationery. 
People who are claiming these expenses from Revenue must incur these costs in performing the duties of their employment, and the costs must be directly related to the nature of their employment.
In the case of retail workers this normally relates to their uniform costs.
A full list of relevant expenses is available at this link: https://www.revenue.ie/en/personal-tax-credits-reliefs-and-exemptions/documents/flat-rate-expenses.pdf