On the Debenhams picket line – with Michelle Gavin
Sunday 22 November 2020
WHEN Michelle Gavin started working for Roches Stores in Waterford back in 1993 she believed she'd be able to leave the company at a time of her choosing. That was all thrown into turmoil on April 9th when she received a phone call from a friend of hers in Cork telling her to check her emails immediately.
Debenhams, which had taken over Roches Stores in 2006, had sent a generic email to Michelle and her 68 colleagues in the Waterford store stating that its Irish stores "are not expected to reopen".
She was out of a job, along with – including concession staff – some 90 other workers in the Waterford store.
"The managers at least got the courtesy of a phone call," Michelle recalls as we discuss that life-changing announcement.
It's "horrible" to get this news after 27 years of service she explains and details how this has turned her life upside down.
"This situation I'm in now is 24/7. Being the shop steward, I've taken on the role of trying to organise things. It never shuts off in my head.
"I still have one daughter in college. There are fees I still have to pay. I was lucky enough my mortgage is paid so I'm in a lot better position than some of the other girls."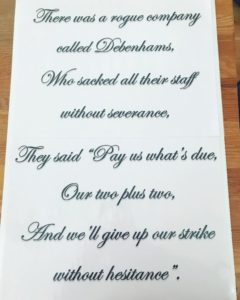 Commitment to the cause
It's clear Michelle has taken on more than her fair share of responsibility in trying to achieve a settlement for all Debenhams workers, and it isn't an easy burden to carry.
"I organise my whole life around the pickets. And when you're not on the picket line, you're doing Zoom calls or contacting TDs.
"Not everybody took part in the pickets and that puts a bigger burden on those that are doing it because we have to do a lot more shifts," she adds.
"Mentally it effects you as well," she continues. "I was there 27 years, and I thought I'd be deciding when I'd leave. I remember saying to one of the girls in the cash office where I work, 'I think I'll stay until I'm 60'. Little did I know I wouldn't have that choice."
I ask Michelle if she's looked for alternative employment.
"The thought of even looking for another job is very daunting for me. It's changed a lot since my day, even though I know I'd be very capable.
"Until this is over, I don't think I can move on. I know the others are the same, but seven- and-a-half months on, you just don't want to walk away."
Government responsibility
While the blame for what's happened is on Debenhams, Michelle feels the Government shares some responsibility.
"The way I look at it is, they allowed Debenhams the facility to walk away. I knew about Clerys, but I'll be honest with you, and much to my shame maybe, I wasn't aware of the Duffy/Cahill report. But I've learnt an awful lot from this."
Michelle is referring to the 2016 government report, published more than four years before she received that fateful email from Debenhams. If the recommendations in Duffy/Cahill had been implemented it could have prevented the Debenhams workers from being in the situation they currently find themselves in.
"If that had been implemented, we would have been protected to some degree. I didn't think I'd be in this situation. I think it's important for every worker to get their head around it, because it could happen to them at some stage."
The occupation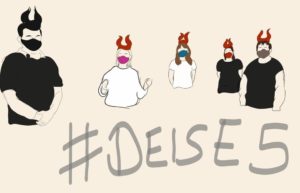 Michelle took part in the occupation of the Debenhams building in Waterford.
"I didn't think I'd ever see myself doing anything like that," she admits as she giggles at the very thought of breaking the law.
I ask if she's proud of her actions.
"Very proud," Michelle replies. "I didn't think I'd do anything like that."
She continues: "The Monday we went in, we felt we needed to get a new focus on it and put it in the public eye, so to speak.
"I'm married to a retired Garda sergeant. I know he was anxious about it but when I came out he had a lovely bunch of flowers and a beautiful big card to say 'I'm very proud of you', and that meant so much to me.
"He's been so supportive of all of this and he's been great and I'd have been lost without him. A lot of the posters we've made outside of the union stuff, he's made them."
When asked about what support had been given to the Debenhams workers by local politicians, Michelle finds little positive to say.
Political support
"With regard to the TDs in Waterford it's been very disappointing. David Cullinane has been good because he's with Sinn Fein but – and I have to be honest – Mary Butler (Fianna Fail) and Marc Ó Cathasaigh (Green Party) have not.
"Matt Shanahan, who is an independent, has said he's supporting us but hasn't come down and our local Mayor hasn't come near us."
The trade unionist
Michelle also spoke of her long involvement in the trade union movement.
"I'm the type of person that hates somebody not treating somebody else right," she explains. "And I suppose, I've always had a bit of a mouth on me, so I'd always speak up.
"My mother was a shop steward as well and she was one of a family of nine and they all would've felt the same. We're good workers – but you have to stand up for yourself."
Personal trauma
While the strike has, of course, dominated the lives of the Debenhams workers, personal issues  – family bereavements and the like – also have to be dealt with.
"Up to this year all of them were still alive," explains Michelle of her mother's family, "and the youngest is 71 and the oldest is 88. The first one of her family died when I was in the occupation. And that was hard because I was there and I was saying, 'Do I come out? Do I stay in? What do I do?'.
"I was in terrible turmoil over it. I remember she [Michelle's mum] rang me to tell me what had happened, and then she said to me, 'Now. don't come out, because Jim was a fighter so you're to stay there'.
"And then two weeks later, the day the lorry decided to come to Waterford to deliver pallets, the second member of my family died. So we lost two in the space of two weeks.
"That's all on your mind as well. We're trying to do ordinary day-to-day living. You have all those things going on in your life as well.
"We're trying to cope with the Covid, and then we have this thing that's always there and is not going away. You do want it to end, we want to move on. But you're not gonna stop fighting, because after seven-and-a-half months you're not just going to stop."
Michelle underlines how the workers have appreciated all the support they've received, particularly some of the donations from trade unions.
"That donation we got we decided to split it out between us all because we've incurred expenses – paying for lunches and coffees, even for gloves, hats, rain gear and all that stuff to try to keep ourselves dry.
"We divided it out between what was left there and one of the girls when I handed her the money said to me, 'Oh thanks be to God for that, the poor child needs her glasses repaired, and I can use that to pay for that'.
"She also said she still hasn't received her redundancy money. She said, 'I hope I get that money in the next few weeks, because I was on the mortgage holiday and that's going to hit back in and I really kind of need my redundancy to help me get over it'."
Michelle thinks the impact of what has happened hasn't been widely understood.
"What many people don't understand is that jobs are not as plentiful now as they were because of the pandemic. But we still have all our expenses because when you're in a permanent job you take on things, so you might have borrowed for your car, so that extra two weeks would give everybody that opportunity to put that side of their life in order for a few years. Like you could pay off that car loan."
In it together
Michelle's admiration for her colleagues – who've been on the picket lines across the country for the last eight months – is clear.
"We have all the same trials and tribulations still going on in our lives. They didn't go away just because we're on strike. One girl attends the hospital every second week, she has medical issues, but she comes in to do her strike duty, there's no issue with that."
The sense of social justice Michelle articulates isn't just related to Debenhams workers and their plight. She has a broader view of the world:
"I wasn't big into politics (before the strike), but it kind of opens your eyes now to this 'inner circle' as they call it, it's very apparent. Being involved in this opens your eyes to other things that maybe I wouldn't have taken an interest in but it makes you aware of everything that's going on…
"Like we should have a brilliant health system, the teachers and the schools should be all sorted. Another thing I always felt, there should be no person in this country, in a progressive country like us, that should be waiting on a cataract operation in 2020.
"So easy to fix, not horrendously expensive, and imagine leaving an old person go nearly blind for something that's so simple. Things like that you become very aware of.
I asked Michelle if there are any positive stories from the picket line.
"We had a protest yesterday and this lovely gentleman came along. He said, 'Would you mind if I go on your protest with you?' I said, 'No, not at all, we'd be delighted'. He said, 'I made a little sign, and I made you some nice sandwiches that we can have afterwards'.
"He had made this lovely, homemade bread and made them gluten-free 'just in case'! Beautiful, beautiful sandwiches and we handed them out afterwards."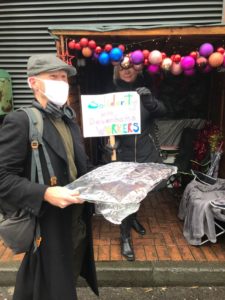 That kind of positivity from Michelle Gavin and her focus on the kindness of others, at a time when she has every right to be angry and bitter at what's happened, is a testament to the leadership skills she's exerted in running her own picket line for almost eight months.
These workers deserved better from their company, and they deserve better from the Government. We should all be very proud of their actions.