Trade Union women are still leading the charge for progress in 2019
Friday 8 March 2019
The concept of International Women's Day originated in Soviet Russia in 1917 as a celebration of women winning the right to vote. On 8th March that year, women textile workers began a demonstration, covering the whole city.
Soviet Russia made the date a national holiday and it remained a celebration in socialist countries until 1975 when the United Nations adopted it and the idea of celebrating women in western societies began, including Ireland.
The trade union movement has had its share of female activists who have delivered lasting change for workers all across the world. Mandate Trade Union is one such union who has led that change, generation after generation.
Cissie Cahalan, our first female President in 1921, lead strikes as the shop steward in Arnotts where she won a 25 percent pay increase in 1916. She also lead a winning campaign to establish a minimum wage in the drapery sector and the full abolition of the inhumane 'Living In System' – where drapery workers, mostly women, would be locked in their employment premises at night and often died in ferocious fires with no hope of escape.
In 1945, the Irish Women's Workers' Union (now SIPTU) organised a successful three month strike to win improvements in terms and conditions of employment that resulted in two weeks paid annual leave for all workers in Ireland.
The Dunnes Stores Anti-Apartheid strike in 1984 when ten young women and one young man from Dunnes Stores on Henry Street in Dublin went on strike for two years and nine months in order to vindicate their right not to handle goods from the cruel Apartheid South Africa.
Their strike eventually led to the banning of goods from South Africa in Ireland and is credited with helping to end the Apartheid regime.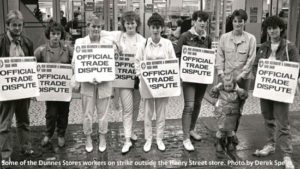 This week we saw the introduction of a new piece of legislation, the Employment Miscellaneous Provisions Act 2018 which bans zero hour contracts and provides all workers with secure hour contracts.
This, again, was won by trade union activists, mostly women.
The Dunnes Stores workers – 75 percent female –went on strike on April 2nd 2015 and started the discussion about precarious contracts of employment. After they took industrial action, their company targetted them. Some were sacked; some had their hours slashed; some were moved from departments they'd worked in for decades; and some had their shift patterns altered, making it impossible to manage child minding responsibilities.
These tactics are not new. Many employers use allocation of hours as a control over their workers, particularly women.
Then the Lloyds Pharmacy workers – 90 percent female – went on strike during 2018, highlighting the fact they were employed on zero hour contracts. They lasted 9 days and won pay increases of up to 34 percent, a sick pay scheme and a commitment that their company would issue secure hour contracts in line with new legislation.
All of these actions, led by women, pressured the government into legislating for secure hour contracts. This week on Monday 4th March, it became law.
While others may try to take credit for it, the only reason legislation was passed was because female trade union activists demanded action.
Throughout all of the tremendous achievements won above, there was a consistent group who opposed the workers at every turn. A group who resisted, victimised and made life hell for the activists fighting for a better world for women workers. That group? Employers.
Today, many corporations and businesses have co-opted the day as a marketing tool. Using International Women's Day as a way to express their 'Corporate Social Responsibility' – and hope to receive a few more 'likes' on their social media pages.
They upload pictures, quotes and videos of heroes of the past. People like Constance Markievicz, who just happened to be a founding member of the Irish Citizen's Army (trade union army), a socialist and a solid trade union activist who supported the strikers during the 1913 Lockout, helping to feed the starving families in soup kitchens.
Ironically, some of those very same corporations still don't allow their female staff the right to be represented by a trade union of their choice today – a position that would be abhored by the people they have on display in their stores. Others do not disclose their gender pay gap. And many are still using the allocation of hours as a method of control over their predominatly female workforce.
On International Women's Day, the activists we tend to celebrate are those who fought for equality, for fairness and for liberty.
For us in the trade union movement, though, we don't just celebrate them as a quick gimmick or a way of selling more products. We celebrate them for the genuine progress they have brought to the entire human race. We celebrate the women who are still making waves today, the ones who continue to carry that torch of equality and social justice. They are our mothers, daughters and sisters. And we have no doubt that they will continue to be the leaders of progress in 2019 and beyond.
To all the female trade union activists and members throughout the world, Happy International Women's Day 2019.
And to any employers who truly want to honour women, you can do this by providing secure hour contracts, providing family friendly scheduling, awarding decent pay rates with paid maternity and pensions, and affording your workers the right to be represented by a trade union of their choice. Anything less than this is just lip-service.