New employment legislation to protect low hour and zero hour workers comes into force today
Monday 4 March 2019
Legislation which eminated from Mandate Trade Union's successful campaign for secure hour contracts comes into force today (Monday, 4th March) and hundreds of thousands of workers will benefit from it.
The new Employment (Miscellaneous Provisions) Act 2018 bans zero hour contracts in most circumstances; gives workers more security over their hours and income; requires employers to furnish workers with their core conditions of employment within five days; and provides for minimum payments in cases where the employer fails to provide an employee with work.
The new Act is one of the most significant pieces of legislation on workers' rights in decades. Much of the credit for its passing should be given to the Dunnes Stores workers and Mandate Trade Union members who went on strike for secure hour contracts and who then fought for legislative changes that would protect all workers in Ireland.
Welcoming the new legislation, Mandate's General Secretary John Douglas said:
"Our members have fought for this legislation for more than four years now and hopefully the new law will translate into significant improvements in living standards for all workers.
"Under the Act a worker has the right to be given a contract that accurately reflects the hours they normally work per week."
He explained: "For instance, Dunnes Stores workers have 15 hour contracts, yet many work up to 40 hours per week for a full year. Now they can request a new minimum hours contract where the average of hours they've worked over the previous 12 months places them within a 'band of hours'. In this case, it would be 36 hours and above.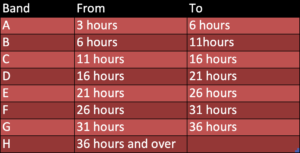 "This provision will enable a worker to obtain security over their hours and over their income. It will enable them to seek a mortgage or even a loan from a credit union. And crucially, it will prevent their employer from threatening a reduction in hours if they join their trade union or lodge a grievance with their manager," said Mr Douglas.
In order to invoke the legislation, a worker must make a written request to their employer. That employer is then obliged to provide the worker with a new secure hour contract within four weeks or justify why they cannot offer secure hours. If an employee is unhappy with that explanation or the new band of hours the employer has placed them on, they can appeal to the Workplace Relations Commission (WRC).
Mr Douglas said: "It's important that workers make these claims through their trade union. Many employers will drag out this process and make it onorous on their workers to make their claims, so having a strong trade union behind you is essential."
Mandate is already hearing reports of employers providing draft forms for their employees to apply for a new banded hour contract which disincentivise or intimidate workers into not applying for a contract.
Mr Douglas said, "One employer has told their workers that they need to have the form signed by local management. Another is telling workers that if they receive the new band of hours that they could be sacked if they breach that band in the future. These types of threats and intimidatory tactics are exactly why workers needed this legislation in the first place and exactly why workers need to be in their trade union."
He concluded, "There are strong anti-penalisation clauses [such as transfer of duties, change of location of place of work, reduction in wages or change in working hours] in the legislation and anyone concerned about applying for a new banded hours contract or if their employer offers a new contract or demands that applications are made through their own forms, the worker should contact their trade union."
---
Mandate's David Gibney discussed the new legislation on RTE's Morning Ireland programme today. Listen below.
Join Mandate: www.joinmandate.ie