Mandate Trade Union accuse Lloyds Pharmacy of misleading media and politicians
Thursday 21 June 2018
Mandate Trade Union has condemned Lloyds Pharmacy for deliberately misleading the Irish media and politicians by stating they do not use zero hour contracts, despite Mandate publishing one contract last week.
The Union is now publishing a second contract of employment that does not prescribe any minimum hours for the employee.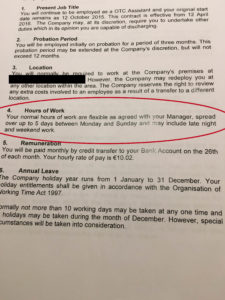 Gerry Light, Mandate Assistant General Secretary said: "It is very frustrating dealing with a company who consistently mislead the media and politicians.
"We have members coming to us and showing us their contracts today, some of whom have been employed in recent weeks, and they are clearly zero hour contracts," he added.
Mandate also criticised LloydsPharmacy for their false statements about Mandate Trade Union membership in the company.
"Mandate Trade Union represents more than one third of all workers in LloydsPharmacy outlets in Ireland with over 230 members and growing. Despite this, the company keeps stating that Mandate balloted 13% of workers for industrial action. This type of spinning is exactly why our members do not trust their management and want an independent trade union to represent them."
Lloyds Pharmacy today issued a statement to media claiming that negotiations on pay increases are ongoing with their company funded staff association.
Mr Light said: "The company keep referring to progress being made with their 'CRC', which was established by management and is funded by Lloyds Pharmacy, as the company confirmed to the Labour Court. It has no legal status. It has no negotiating license and is simply a sophisticated anti-union tactic imported from the United States in order to ensure workers do not have the right to independent representation."
Mandate Trade Union say the company can prevent tomorrow's strike by contacting their workers' union and allowing them represention to negotiate on conditions of employment.
Mr Light said: "Lloyds Pharmacy say they are 'disappointed' with the decision by their workers to strike tomorrow, but it is the company who are forcing the industrial action to proceed. Our members do not want to go on strike, and they certainly don't want to inconvenience their customers. The responsibility for this dispute lies entirely with management at the company.
"Furthermore," concluded Mr Light, "The company is applying double standards towards the Irish State. It is happy to take contracts and finance from the HSE while at the same time ignoring the state's most senior industrial relations body, the Labour Court, who recommended that the company engage with Mandate Trade Union."
The Labour Court recommendation stated: "the Court recommends that the parties engage in order to seek agreement in relation to the matters raised by the Trade Union."
NOTE TO EDITOR
LloydsPharmacy is Ireland's largest pharmaceutical chain operating 88 stores across the country with approximately 800 workers employed in their pharmacies.
LloydsPharmacy is owned by the McKesson Corporation which is the largest pharmaceutical company in the world with revenues of €169 billion in 2017 – more than double the revenue of the Irish state.
McKesson also own UDG Healthcare (formerly United Drug) which is headquartered in Ireland, and where the workers are afforded their right to trade union representation (SIPTU and Unite represent staff in Ireland).